Fraud Prevention
4/11/2022
9 Tips for Avoiding Fraud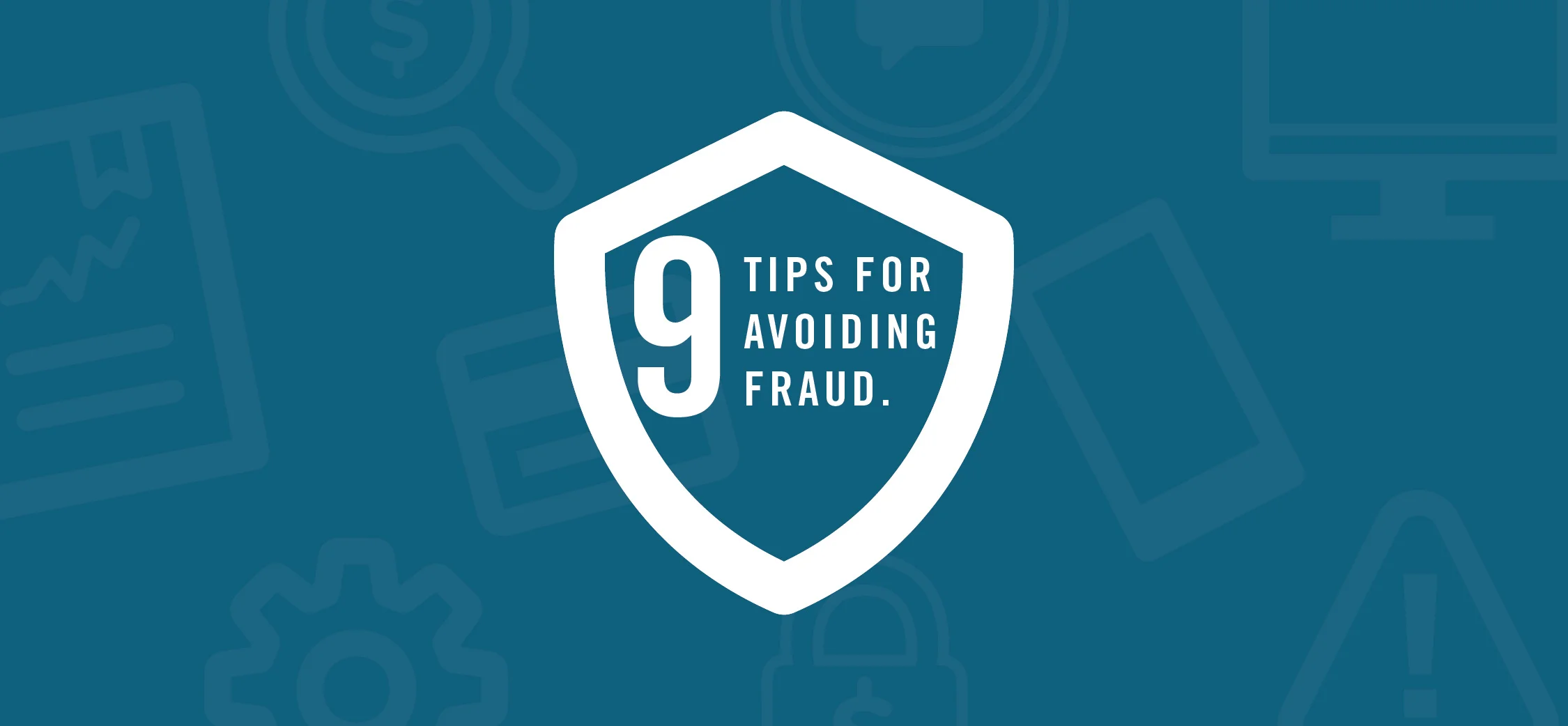 Fraud can be devastating to someone's financial situation or credit history and, unfortunately, it's become a common occurrence. By now you've probably become accustomed to hearing the headlines about another big company losing thousands of pieces of data to some sort of hack or leak. In fact, according to this study from the ABA¹, "cyberattacks across financial services increased 20% in the second half of 2021 from the same period a year earlier and increased 41% from the first half of 2021." This is obviously concerning and it probably leaves you wondering what can be done?
While choosing to only do business with trusted companies can help keep your information secure, there are more ways that you can personally make sure you don't fall victim to fraud or identity theft.
Here's a list of 9 tips for avoiding fraud that will help you protect yourself against those who might try and steal your information.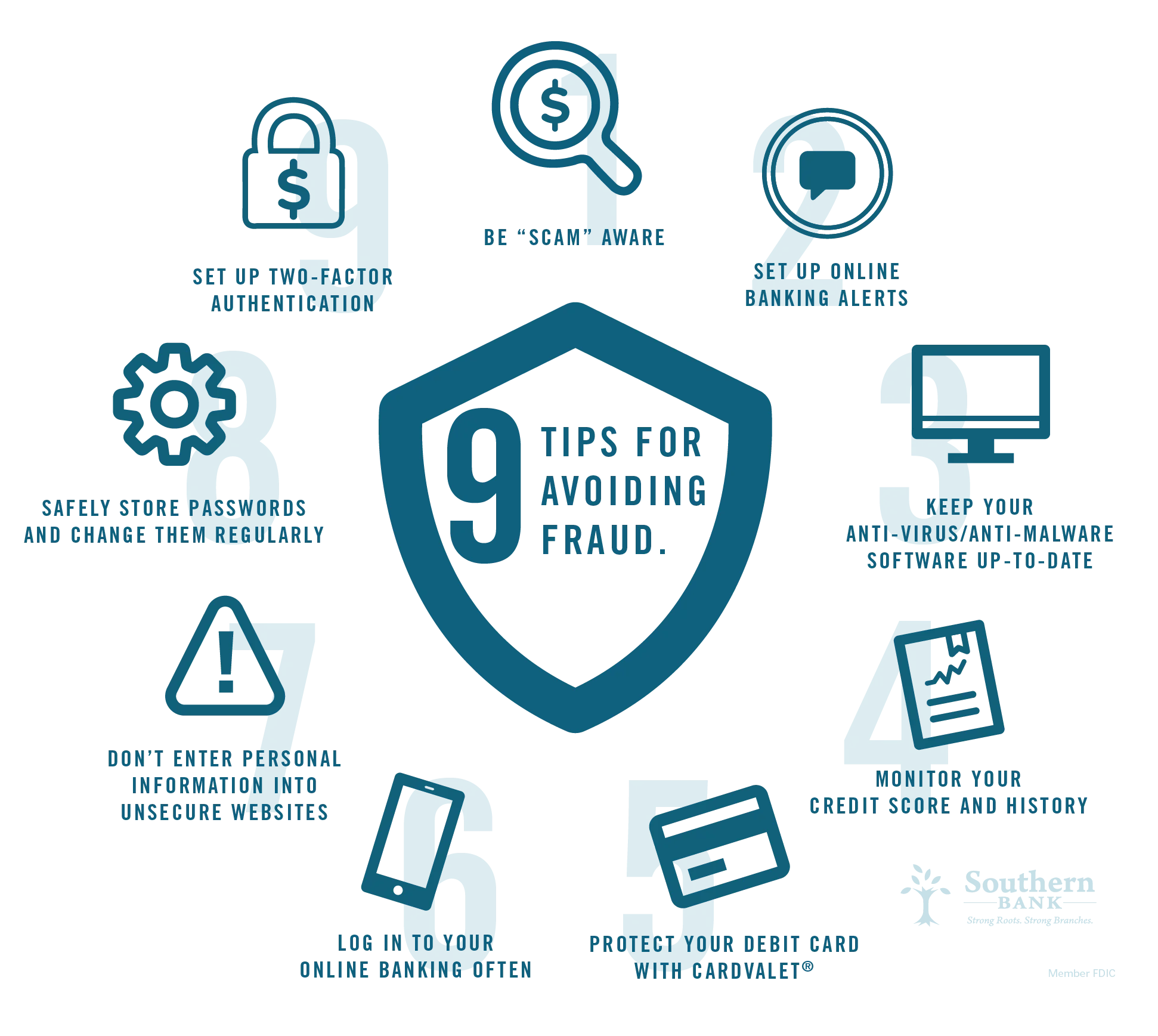 Be "Scam" aware
Scams are most often phone calls, emails, or text messages from people claiming to be with banks or institutions needing information from you. Never give out your information if you receive a phone call like this. Southern Bank will never ask you for your full social security numbers, credit card numbers, passwords, PINs, or authentication codes.

Avoid clicking on links inside emails or messages that you don't recognize. Some clear signs that a message could be a scam are if the message:



Tells you to click a link and log in
Requires immediate action
Asks that you keep the message private
Requests that you send money
Uses hard to track payment methods

Set up online banking alerts
According to the ABA Study¹ mentioned above, attacks on account logins went up 48% and "were up more than 200% on mobile apps" in 2021.

With so much emphasis from fraudsters on stealing logins and accessing accounts, one of the best ways to protect yourself is to be alerted when changes are made. By setting up alerts within online banking, Southern Bank customers can easily be notified through email, text, or both of changes or logins to their accounts. You can view instructions for setting up these alerts here.

Overall, you need to be sure that you're the only one logging in to your online banking and making changes. Setting up alerts is an easy way to do that.

We also recommend not sharing your login with anyone else, even a husband or wife. Setting up combo/shared access makes it harder to track if someone else is trying to access the account. If you get an alert that wasn't you, you may assume it was the other person, even if it wasn't. This makes your account more vulnerable to fraud. With shared accounts, we always recommend people create and use their own individual logins.
Keep your anti-virus/anti-malware software updated
While we all try to be careful about what we click on within emails, even the most innocent looking messages could be a scam. If you accidentally or unknowingly click a bad link or download a file with a virus, having good, updated anti-virus or anti-malware software on your device is the best way to detect it and protect your information.
Monitor your credit score and history
If your information was lost in a data leak and you are unaware of it, you may not know that your identity is being used by someone else until it shows up on your credit history. The sooner you detect this, the better chance you have of limiting any damage to your credit score. While you can request a free credit score from any one of the three major credit bureaus, this is limited to once per year per company. This could lead to not catching fraudulent activity until months after it occurred. Your best bet is to catch it right away with a service that monitors your credit for you and allows you to see any new inquiries on your credit history.

A Southern Bank Keeps Account includes a free identity monitoring service* to help keep your information safe. All our Southern Bank Mastercard® debit card holders can also access benefits such as Mastercard® ID Theft Protection™ (enrollment required) no matter what bank account they have.

Read more: Learn how to check and improve your credit score here.
Protect your debit card with Card Center
Card Center is a free service offered to Southern Bank customers that allows you to see real time debit card activity and notifications that can help you detect fraudulent charges. You can also turn your card on and off if it gets lost. To download the app and get started, visit our Card Center page.
Log in to your online banking often
If someone has gained access to your bank account and is using funds, the best way to catch it is to log in often and make sure everything looks right. Catching fraud sooner can even limit your liability. According to Regulation E
(SB Disclosure) from the Federal Reserve Board, the longer a person waits to report fraud after they receive their statement, the more liability they could have for the missing funds. This is why it's best to check your bank account and catch fraud early.
Don't enter personal information into unsecure websites
The best way to tell if a website is secure is if the URL starts with "https" instead of "http". If you don't see the "s", do not enter personal information, as your connection is not secure. The best practice would be to only purchase items from online businesses or websites that you recognize and trust.
Safely store passwords and change them regularly
Never store your passwords in an unsecure place. There are a number of reputable password managers out there for you to use, and they are much safer than storing them on your computer or even written down. You should also never share your passwords with anyone, even if they claim to be with a trusted institution.
Set up two-factor authentication
Two-factor authentication adds a layer of security to your account by sending a one-time PIN to you through one of the methods you have set up on your account. Typically this is to your cell phone number or email. It then asks you to enter that PIN in order to access your account.

Many websites now require two-factor authentication, but some will allow you to turn it on and off. It's best to turn this option on as it allows you to protect your accounts, even if someone has gained access to your login credentials. Though it may seem like more of a hassle for logging in, you can normally select SMS text as the method of receiving a PIN, making the process quicker and safer overall.

At Southern Bank, we require two-factor authentication for logging in to your online banking to keep you more secure. For instructions on how to use SMS texting as your method for receiving PINs (something we recommend to make the process faster) you can click here.
Disclosures & References:
*Benefits are available to personal checking account owner(s), and their joint account owners subject to the terms and conditions for the applicable Benefits. Some Benefits require authentication, registration and/or activation. Benefits are not available to a "signer" on the account who is not an account owner or to businesses, clubs, trusts organizations and/or churches and their members, or schools and their employees/students. Credit file monitoring may take several days to begin following activation.
1 "Study: Increasingly Sophisticated Cyberattacks Target New Account Creations, Mobile Apps", bankingjournal.aba.com, April 4, 2022,
https://bankingjournal.aba.com/2022/04/...