Business
3/21/2022
Mechant Services - Explained.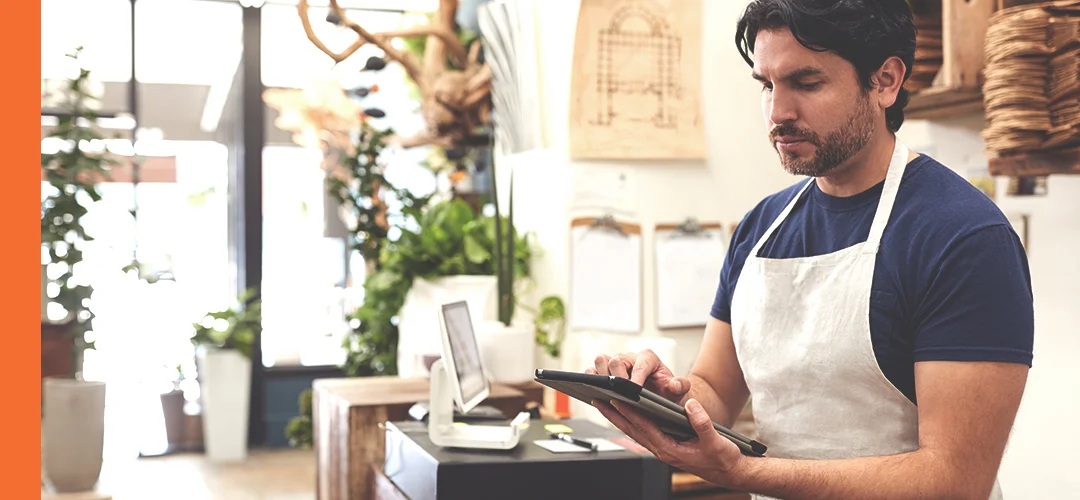 As a business owner, you have a lot to think about. From tracking inventory and running payroll to tracking expenses and marketing for your business, we know that your time is taken up just making sure things run. So if someone comes in and wants to pay with a card, we know you don't have the time to call up the credit card processor or banks yourself to make sure the money gets transferred. You need a partner to help you - and when it comes to accepting payments, a Merchant Services Provider (MSP) is that partner.
What does merchant services mean?
Merchant services is an umbrella term covering all the technology and services that allow you to take and receive payments from a card - either online or in your physical business location. Unlike a credit card processor, a company that offers merchant services will interact directly with your business and assist you every step of the way.
For example, when a customer walks up to the counter at your business to take an order, you'll need a point of sale or POS system to enter that order in. Then when they pay, you'll need something to take their payment information. This is called a payment gateway. Once you have the information, you'll need a credit card processor to move the funds from their bank account to your account.
A merchant services provider will help you access all of this technology and keep it working to make taking orders and receiving payments easy and seamless.
Who are merchant services for?
Merchant services are available to businesses of any size. Whether you have a small business with one location, or a large operation with multiple locations, there are options being provided by many different banks and private companies that make sense.
Some focus on providing equipment and software to small businesses, while others focus on full scale services for large businesses. Others tailor their products to specific markets such as restaurants or coffee shops while some try to make their products available to any business. So no matter what kind of business you have, there are options out there.
At Southern Bank we provide services for both small and large businesses, in many different industries. No matter what business you're involved in, the benefits are easy to see.
Benefits of merchant services
To give you an idea of what to expect, here are the services that we offer here at Southern Bank:
EMV/Chip Card Processing
Protect your customers' information and keep your business from fraud liability by using an EMV/Chip card processor. This technology allows you to validate the payments before they process, helping you to avoid fraud chargeback liability and allowing you to keep customer information safe.
Credit/Debit Card Acceptance
Customers have a variety of different cards from different brands. You'll have the ability to accept payments from all the major card networks including Visa, MasterCard, Discover, and American Express.
Payment Devices
Choose from devices that are specifically suited to your needs and designed to optimize your business. We offer options that give the best in security, support and versatility so you can accept payments through customizable applications that are just right for your business.
Mobile payment acceptance
You can turn your mobile device or tablet into a complete point-of-sale terminal, making it possible to accept payments anywhere, anytime. This is also a great option for businesses that don't have the budget for more expensive hardware.
Electronic Check Services
One way that customers commit fraud is by using bad checks to pay for goods or services. Having electronic check processing options can help you minimize the risk by providing real-time authorizations and fewer check-processing hassles.
Gift Card Programs
Offering gift cards allows you to increase sales, improve cash flow, and project your brand. We offer an affordable program that is flexible and offers cardholder and merchant support features.
Data Security programs
Take the complexity out of payment security with our advanced security suite. Cutting-edge security tools give you the confidence you need to safely accept payments and help reduce your fraud liability and breach vulnerability. Our extensive security suite includes:

PCI Assist – Achieve and maintain PCI compliance with ease. Assistance with vulnerability scans, self-assessments, and checklists help you avoid the devastating loss of consumer trust and the financial impact associated with a data breach.

Breach Assist - Limit your financial liability in the event of a data breach. Our breach protection service provides reimbursement for certain breach-related costs and includes funds for related hardware and software upgrades that may be required post-breach.

Encryption - Add a solid layer of protection by encrypting data the moment it enters your system and throughout the entire transaction. Card data encryption removes card data from your network; reducing your risk of data compromise and helping you reduce the scope of your PCI compliance requirements.

Tokenization - Protect card data at rest. Tokenization replaces card data with a substitute value—a token—that is useless to criminals, while enabling functions like recurring payments and tip adjustment.
eCommerce
If you've taken your business online, or you would like to in the future, then our ecommerce solutions will be exactly what you need. We offer services that allow you to accept electronic payments through a virtual terminal so you can expand your reach and grow your business.
Online Reporting and Data analytics
Access your accounts safely and securely anytime through our online reporting portal. Here you'll be able to reconcile merchant accounts, respond to chargeback notices, research customer transactions, and more.
Recurring payments
Safely allow customers the convenience of setting up recurring payments for ongoing delivery of goods and services.
Electronic Benefit Transfer
Accept all EBT card forms, including SNAP, Cash Benefit, and WIC, using the same equipment and processing systems you use for credit and debit payments.
How do I get started?
Every business is different, which means your business will have different needs than another. Visit our
Southern Bank Merchant Card Services page and read through our options to get a good idea if it's the right fit for you.
If those benefits sound right for your business, you can get started by filling out this online form, and get a quote for Southern Bank's Merchant Card Services via Worldpay.
It's always good to get quotes from different companies, but be ready, there are a lot of different options out there. All of them come with different but similar services and they will all advertise their prices in different ways. Navigating the world of merchant services providers is difficult, and you don't want to get locked into a contract with a company that doesn't end up delivering on what your business needs. So how do you choose the right option?
Here's what to look for when shopping for merchant services:
Helpful programs Most services come with some sort of Gift Card program or loyalty program that you can offer your customers. These are important to look for since they are helpful in expanding your business and retaining customers. You should assess whether or not they make sense for your business, and if there's an additional cost.
Understand the cost It can be a little complicated trying to figure out prices and how they are charged, but there are some basics that will help you as you gather quotes.

Each MSP will typically charge some sort of flat fee monthly or yearly for their software and services. This will vary from company to company, and you shouldn't base your decision just on this fee, because each MSP will also charge processing fees for running cards. This is where it can get a little complicated.

The first thing to understand about processing fees is that part of it will be paid to the card companies no matter what, since that is simply what they charge. Visa, Mastercard, Discover, and American Express are some of the biggest players, and whatever percentage they charge for a transaction is what you will have to pay.

Your merchant services provider will then create a markup above whatever the card company charges - this is to ensure they make a profit as well. What makes this confusing, is that MSP's go about doing this in different ways.

Here are the ways merchant services providers present their pricing:


Flat-rate/blended pricing With this method, you'll pay a percentage plus a flat fee per transaction. While this is the most straightforward, it can also be the most expensive option.
Tiered pricing This charges a different percentage based on different types of cards, differentiating between debit cards and rewards cards and such. This percentage is coupled with a small flat fee per transaction. While this has more variability, it can also be more affordable than flat-rate pricing.
Interchange-plus pricing Here you receive a percentage markup from whatever the card processor charges plus a per transaction fee. While this method has the most variability, it can tend to be the cheapest option.
Membership pricing Some processors will not mark up the percentage per transaction, but instead charge a monthly or yearly membership fee. You will still typically pay a percentage to the card companies as well as a flat fee per transaction. In some cases, this could end up being the cheapest option.

Get local support When you run into problems it can be hard on your business. As a business owner, getting things back up and running right away is priority number one. With some MSPs, support is not local, meaning you could be on the phone for a while trying to contact someone that can fix the problem. A local bank or MSP will likely be able to provide quicker service, meaning you won't have to wait as long to get back to business.
Don't get distracted The best thing to remember as you're looking is to stay focused on what your business needs. It can be easy to get distracted by the newest, coolest equipment and programs that aren't necessary for your business. While you could enjoy taking advantage of all those things, it could end up coming with a price tag that keeps you from being successful. And if the offer you are receiving seems too good to be true, there's a decent chance that it is. Dive into each quote to make sure you understand the real cost and remind yourself of what you need throughout the process. If you have questions along the way, we're always here to help.
Keep in mind that usually the percentages you see are an average and will vary depending on other factors like the card company, how the card number was entered, and if the card is present or not.
How can Southern Bank help your business? See what we offer >