Press Release
06/12/2018
Southern Bank Names New Branch Retail Manager in Poplar Bluff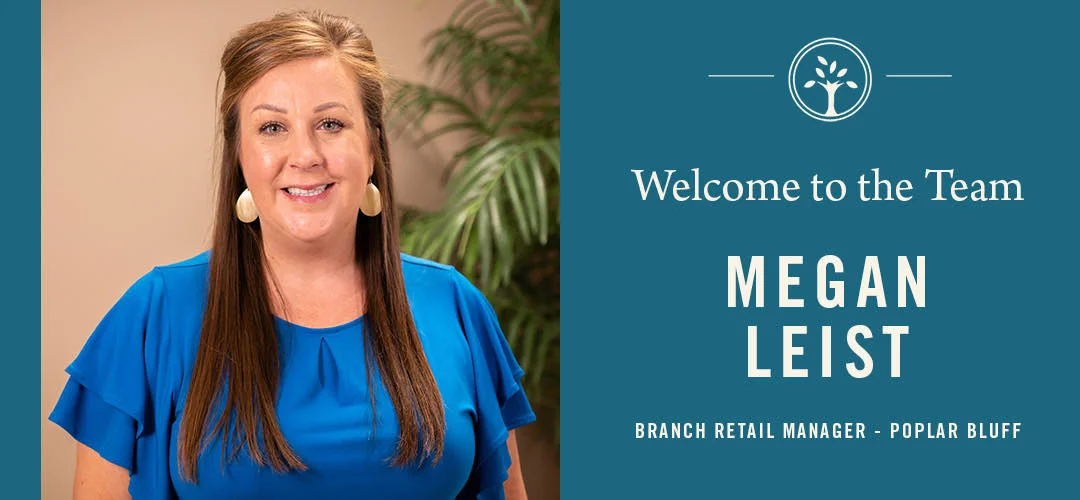 (May 17, 2018 – Poplar Bluff, MO) Southern Bank recently announced the addition of Megan Leist as Branch Retail Manager for the Southern Bank branches located in Poplar Bluff on Oak Grove Road, Vine Street, PP Highway and Three Rivers College.
Leist brings more than 10 years of banking experience to Southern Bank. She started her career as a teller then moved into an operations role. Most recently she served as branch manager for the Bank of Missouri in Poplar Bluff.
"I am looking forward to working with my new colleagues at Southern Bank," said Leist. "Their commitment to the community is something I have long admired, and I am looking forward to serving our residents with that commitment in mind."
Leist is a 2004 graduate of Dexter High School and received a Bachelor of Science from Southeast Missouri State University.
Megan and her husband, Brandon, have 3 children: Logan, Cason and Emersyn. In addition to her duties at Southern Bank, Leist is an avid volunteer serving on the Board of Directors for The United Cancer Assistance Network (UCAN) and Women Aware. She is an Ambassador for the Greater Poplar Bluff Area Chamber of Commerce, and an active member of the Poplar Bluff Lions Club.
"Megan is an asset to the community and we are pleased to be able to add her to our team," said Mel Jackson, Market President for Southern Bank. "Megan has the leadership skills and operations knowledge that we were looking for to lead our Poplar Bluff branches, and continue to grow."
About Southern Bank
Southern Bank has served the financial needs of America's Heartland for over 130 years, making it one of the oldest financial institutions headquartered in the region. Southern Bank offers dynamic and competitive products to individuals and businesses with a full range of financial products and services. An intense focus is placed on core values of being strongly rooted within the communities it serves, but Southern Bank also offers the innovative technology and ease of accessibility consumers seek from larger banks. Southern Bank is now a $2.1 billion financial institution, with 47 locations in Southern Missouri, Northern Arkansas and Southern Illinois. For more information, visit www.bankwithsouthern.com.