Press Release
06/13/2023
J Darren Hillis Achieves Circle of Success Recognition at Ameriprise Financial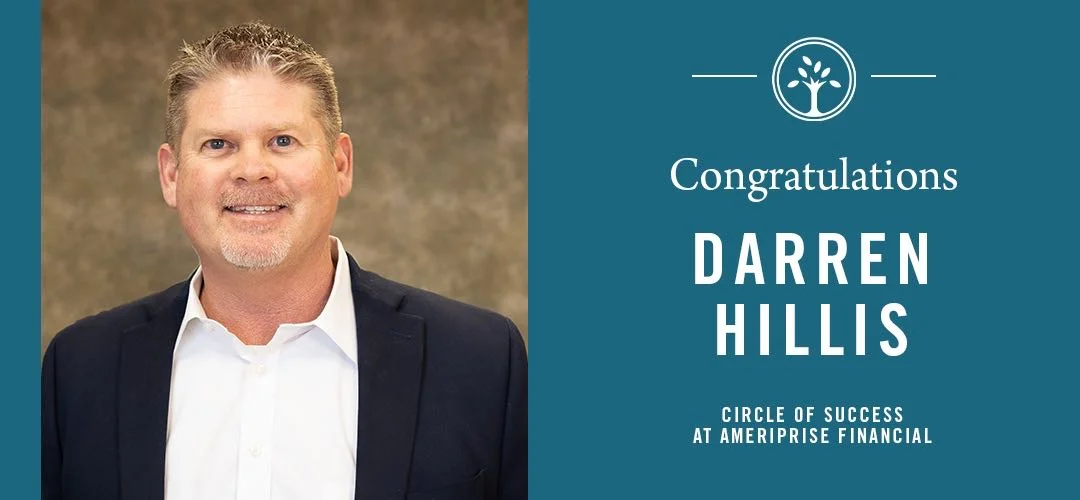 Poplar Bluff, MO – June 7, 2023 – J Darren Hillis, a financial advisor and Vice President with Southern Wealth Management in Poplar Bluff, MO, has qualified for the company's Circle of Success annual recognition program and will be honored for this achievement in 2023.
The list, published February 9, 2023, includes "50 companies selected by the financial services specialists at KBW in seven sub sectors – banks, capital markets, consumer finance, fintech, insurance, mortgage finance, and business development companies." (Forbes.com) It considers each company's risk-adjusted return for the past 5 years and data deemed important by KBW analysts for each category such as revenue growth or debt to equity.
While at the conference, advisors will share best practices with peers and focus on how they can continue to serve clients' needs with the most current and effective strategies, products, and solutions.
To earn this achievement, Hillis established himself as one of the company's top advisors. Only a select number of high-performing advisors earn this distinction.
As a financial wealth advisory practice, Southern Wealth Management provides financial advice that is anchored in a solid understanding of client needs and expectations and provided in one-on-one relationships with their clients. For more information, please contact J Darren Hillis at 573-778-1840, visit the Ameriprise office at 2991 Oak Grove Rd, Poplar Bluff, MO, or visit https://www.ameripriseadvisors.com/j.darren.hillis/.
About Ameriprise Financial At Ameriprise Financial, we have been helping people feel confident about their financial future for more than 125 years1. With extensive investment advice, asset management and insurance capabilities and a nationwide network of 10,000 financial advisors, we have the strength and expertise to serve the full range of individual and institutional investors' financial needs.
Disclosures and References:
1Company founded June 29, 1894.
Investment advisory products and services are made available through Ameriprise Financial Services, LLC, a registered investment adviser.
An Ameriprise Financial franchisee.
Ameriprise Financial Services, LLC. Member FINRA and SIPC
© 2023 Ameriprise Financial, Inc. All rights reserved.