Press Release
03/30/2023
Southern Bank Congratulates Rob Binney on appointment to Missouri Workforce Development Board.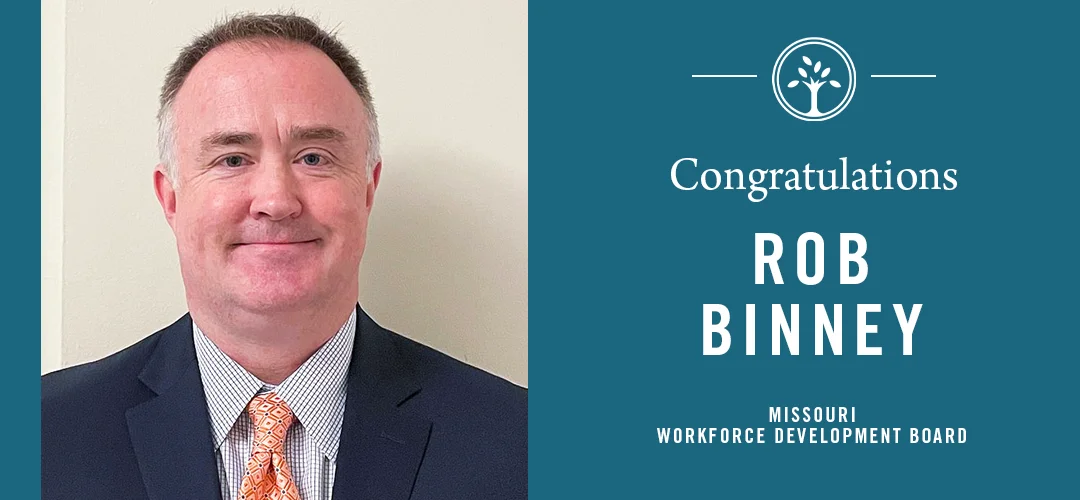 Poplar Bluff, MO – Southern Bank would like to congratulate Rob Binney on his appointment to Missouri's Workforce Development board (WBD).
The announcement made by the Missouri Department of Higher Education & Workforce Development (MDHEWD) comes after Binney was appointed by Governor Mike Parson in February and a Senate confirmation hearing made it official Tuesday, March 21, 2023.
Rob Binney is the Senior Commercial Loan Officer in Lee's Summit for Southern Bank, which recently acquired Citizen's Bank & Trust where Binney served as Senior Vice President since 2017.
His previous experience includes serving as a member of the Lee's Summit City Council from 2012-2020, and as Mayor Pro Tempore from 2016-2018. He has stayed involved in the community as a member on the executive committee of the Lee's Summit Workforce Alliance. He also sits on the advisory board of the Truman Heartland Community Foundation and the Lee's Summit Education Foundation.
"It's a testament to hard work and the impact he's had on the community," said Greg Steffens, Southern Bank's Chairman of the Board. "We're excited to see someone from the Southern Bank team recognized for their ability to serve their communities and getting the opportunity to have an impact across the state."
"Southern Bank always aims to be involved in the communities we serve, and Rob is someone who sets a great example," added Mark Eagleton, Regional President of Southern Bank. "His experience working within the community is really impressive, and we're thrilled that he's getting the chance to do that at the state level now as well."
Southern Bank
Southern Bank has served the financial needs of America's Heartland for over 135 years, making it one of the oldest financial institutions headquartered in Missouri. Southern Bank offers dynamic and competitive products and services. An intense focus is placed on core values of being strongly rooted within the communities it serves, while offering the innovative technology and ease of accessibility consumers seek from larger banks. Southern Bank is a $4.4 billion financial institution, with 65 locations in Missouri, Arkansas, Illinois, and Kansas.