Business
01/27/2022
What goes into a business plan?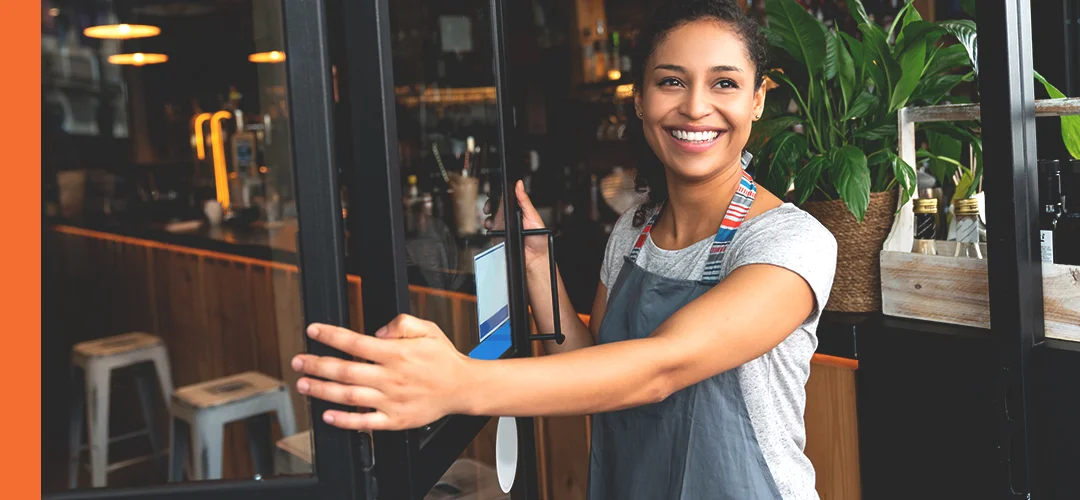 We understand the excitement of starting a new business - that feeling of seeing your new logo or putting those finishing touches on the remodel. Small businesses take a lot of work, and you should be proud of everything you've put in.
But, at some point you've probably asked yourself, "Am I heading in the right direction?" The best way to know is by creating a plan from the beginning. If you've already started your business without a plan, don't be discouraged - writing a plan can happen any time you need to make some changes or seek funding. We can help you get started.
How to make a business plan.
The best way to handle a task like writing a business plan is to break it down into bite size pieces. Each section will be more manageable, and you can think through each one fully.
7 sections of a business plan
Executive Summary

This section summarizes everything your business will offer and who you will offer it to. It should be clear and concise. Talk about where you see the business going and summarize financial information if you are asking for funding. Include your mission and vision statement as well. While this section comes first, it may be better to write it after you have everything else written down, since it summarizes the information to come.
Business Description

A business description is a high-level overview of your business. The first paragraph should be your pitch for the business - explaining the problems or needs in the industry that your business meets. Here's what you need to cover:
Who you are - this involves not only your history as a business, but also the mission and vision you have to carry the business forward. Also include your legal structure (partnership, LLC, Sole Proprietor, etc).
How you operate - include an operations plan that breaks down how you'll organize management, where you'll be physically located, plans for manufacturing and distribution, etc. Be sure to add the names of any key personnel, especially if they bring a certain level of expertise to your business.
What you offer - describe your product or service in summary. You'll go into more detail on this in a later section.
Where you're headed - include some short-term and long-term goals that show where you want to take the business.
Who your audience is - summarize your market and describe how they are different from everyone else.
Product/Service Description

This is where you will provide all the information you have about the product or service you offer, as well as how it benefits the customer. Go into detail about how it compares to the products and services of competitors and what sets you apart. Adding pictures or diagrams here could be a good idea if they help explain information in a concise way. Be sure to talk about ongoing research for new product development and any other pertinent information like patents or permits for the product or service you offer.
Market Analysis

A market analysis uses industry stats and projections to show how your business fits into the market. This information will not only help convince investors, but create a great opportunity to learn about your industry - either affirming your plan of action or helping you make adjustments.

The market analysis also includes a competitive analysis - the strengths and weaknesses of your competitors and a breakdown of how your business compares.
Marketing Plan

Your marketing plan is a strategy for creating growth in your business. Break it down by defining your target markets and explaining the channels you'll advertise on. If you have some of the ads already mocked up, you can include them here. For each of these channels you'll need to show how many people you expect to reach, why they work for your target market, and how much money you anticipate spending.

Your marketing plan should also include a plan for sales. Explain how you will acquire them and who you will have as a salesperson, if applicable.
Financial Plan

This section is where you'll create a clear financial picture for your business. Explain how much you plan to make in sales and how cash will be used. If you are just getting started, then you'll need to calculate expected sales to create projected income statements, balance sheets, etc. If you are already established, then you can pull information from your current income statements and balance sheets. And don't forget to document any assets the business holds that could be put as collateral for loans. If you're looking for funding, then current cash flow and key uses for the funding will need to be included.
Attachments

This is where you will attach any important paperwork that can be alluded to within the plan. Permits, product pictures, credit histories, patents, other contracts, etc., can all be placed here. This allows you to keep more of the information in the rest of the plan slimmed down and gives someone who wants to see more the chance to do so.
How to make your business plan stand out
Your business plan will say a lot about your business, and if you are looking for funding, then there are certain things you need to do to impress. Here are some tips that will help your business plan stand out to investors.
Be Clear
The first thing you will want to do with your plan is make it more readable and clear. Don't bog the reader down with a bunch of undefined jargon that is hard to read. Do your best to say things concisely.
Do your homework
Another way to make your plan stand out is to do thorough research to back up your statements. If you have convincing numbers, your reader will be impressed. The goal is not inflated numbers, it is accurate numbers. If you know your stuff, that will speak volumes for your future success. Not only that, it will better prepare you to run the business well.
Make it look good
There is a fine line here. You don't want to add too much and get too creative - people are more interested in the information. You do, however, want to make your business plan look like it belongs to your business. Use creative elements tastefully throughout and use graphs or images where appropriate. Using a business plan template is okay, but make sure you personalize it to keep it from looking like someone else's.
We can answer any questions you have. Reach out to a Southern Bank commercial lender
What to avoid in your business plan
Grammatical errors
All the research in the world could be included in your business plan, but if you have typos, your plan could lose credibility. Don't let all your hard work be defined by a few mistakes. Make sure to proofread your plan multiple times before showing it to a bank or investors.
Being unrealistic
Business plans are full of assumptions. Investors understand this. If you try to bolster your plan with unrealistic goals or numbers, then people will see through it. Not only that, but you will set poor expectations for your business from the start. Keep your numbers based in reality and backed by what is currently going on in your industry.
Claim that there's no risk
Everyone knows that there is risk in doing business. Things never go exactly the way you expect them to, so avoid making the claim that your business is fool proof and that there is no risk involved. Instead, find ways to acknowledge risk while showing ways you plan to lower it and make investments more secure.
Make business a little easier with Cash Management from Southern Bank.