Press Release
11/14/2018
Southern Bank Names Brumitt Community Bank President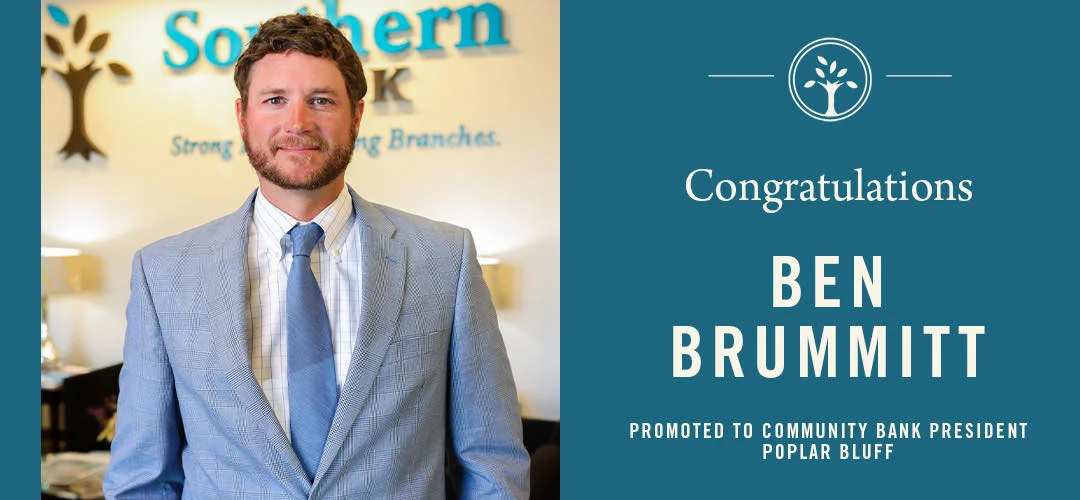 (November 14, 2018 – Poplar Bluff, MO) Southern Bank recently announced the promotion of Ben Brumitt to Community Bank President for the Poplar Bluff market. Brumitt will be responsible for leadership of the Poplar Bluff lenders as well as market development for the Poplar Bluff area.
Southern Bank Market President Mel Jackson said of Brumitt: "Ben has demonstrated dedication and leadership throughout his career with Southern Bank. I am very confident that he will continue to build upon his past accomplishments and bring continued growth to our organization". Southern Bank President and CEO Greg Steffens added, "Mr. Brumitt is a valuable asset to our team at Southern Bank and we are excited to reward his accomplishments and name him Community Bank President for the local market".
Brumitt has been a team member at Southern Bank for over 11 years, most recently serving as a Commercial Loan Officer. Brumitt attended John A. Logan College where he graduated in 2005 with an Associate of Arts degree. He then went on to graduate from Southeast Missouri State University in 2007 with a Bachelor of Science degree in Finance.
Brumitt and his wife, Sara, have three children, Nicholaus, Peyton, and Chase. In his free time he enjoys golf and spending time on Current River with his friends and family.
About Southern Bank
Southern Bank has served the financial needs of America's Heartland for over 130 years, making it one of the oldest financial institutions headquartered in the region. Southern Bank offers dynamic and competitive products to individuals and businesses with a full range of financial products and services. An intense focus is placed on core values of being strongly rooted within the communities it serves, but Southern Bank also offers the innovative technology and ease of accessibility consumers seek from larger banks. Southern Bank is now a $2.1 billion financial institution, with 47 locations in Southern Missouri, Northern Arkansas and Southern Illinois. For more information, visit www.bankwithsouthern.com.