Press Release
06/21/2016
Southern Bank Names Jackson as Community Bank President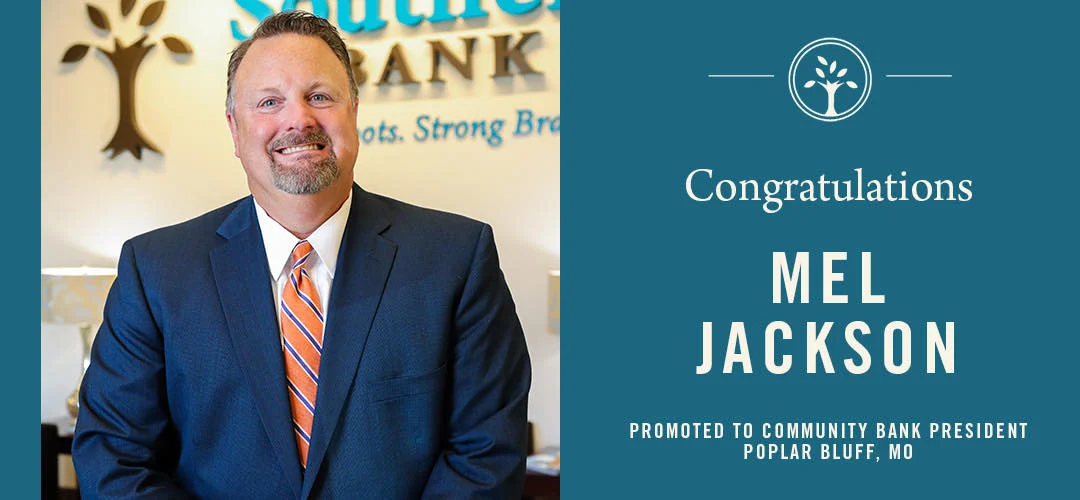 (June 21, 2016 – Poplar Bluff, MO) Southern Bank announced Mel Jackson has been promoted to Community Bank President for Southern Bank in Poplar Bluff. Jackson has been with Southern Bank since 2008.
Jackson brings more than 26 years of banking and financial experience to his new role. Prior to being named Community Bank President, Jackson served as a Senior Vice President and Commercial Loan Officer at Southern Bank.
"Throughout his career at Southern Bank, Mel has been dedicated to his customers, his coworkers and the community," said Greg Steffens, President and CEO of Southern Bank. "This promotion recognizes the important role he plays at Southern Bank and the positive impact he makes."
Jackson is a Doniphan, Missouri native and graduated from Doniphan High School. He attended college and received his degree from Arkansas State University. Jackson has been heavily involved in the Poplar Bluff community for many years including previously serving as the Chairman of the Board for the Poplar Bluff Chamber of Commerce, and as President for both the Poplar Bluff Boys and Girls Club Board of Directors and the Poplar Bluff Kiwanis Club. He is also actively involved with Fellowship of Christian Athletes and a member of First Baptist Church.
Jackson and his wife, Dr. Amy Jackson, currently reside in Poplar Bluff with their three sons, Colton, Cameron, and Caden. Jackson's office is located at the newly opened Southern Bank headquarters on Oak Grove Road in Poplar Bluff.
About Southern Bank
Southern Bank has served the financial needs of America's Heartland for over 130 years, making it one of the oldest financial institutions headquartered in the region. Southern Bank offers dynamic and competitive products to individuals and businesses with a full range of financial products and services. An intense focus is placed on core values of being strongly rooted within the communities it serves, but Southern Bank also offers the innovative technology and ease of accessibility consumers seek from larger banks. Southern Bank is now a $2.1 billion financial institution, with 47 locations in Southern Missouri, Northern Arkansas and Southern Illinois. For more information, visit www.bankwithsouthern.com.